"I am only one, but I am one. I cannot do everything, but I can do something. And because I cannot do everything, I will not refuse to do the something that I can do."
― Edward Everett Hale
You already know us as a real estate company, dealing in land and buildings such as homes, offices, and retail shops. But did you know that we also have a strong commitment to a different kind of building—BUILDING a sense of caring COMMUNITY? It's the feeling that each of us belongs. That each of us matters. That we can depend on each other.
So how do we BUILD that sense of caring COMMUNITY?
By working together and giving to others our time, our talents, and our treasure—through VOLUNTEERING.
We're proud to launch #IBuildHope—a movement to inspire, energize, and recognize local volunteers. (More info to follow in the upcoming weeks).
As our first #IBuildHope project, from March 31 through April 30, 2018, Arkansas Elite Realty is sponsoring a Clothing and Supply Drive to benefit The Children's Shelter, a temporary emergency facility providing children from over 25 counties in Northeast Arkansas with temporary housing.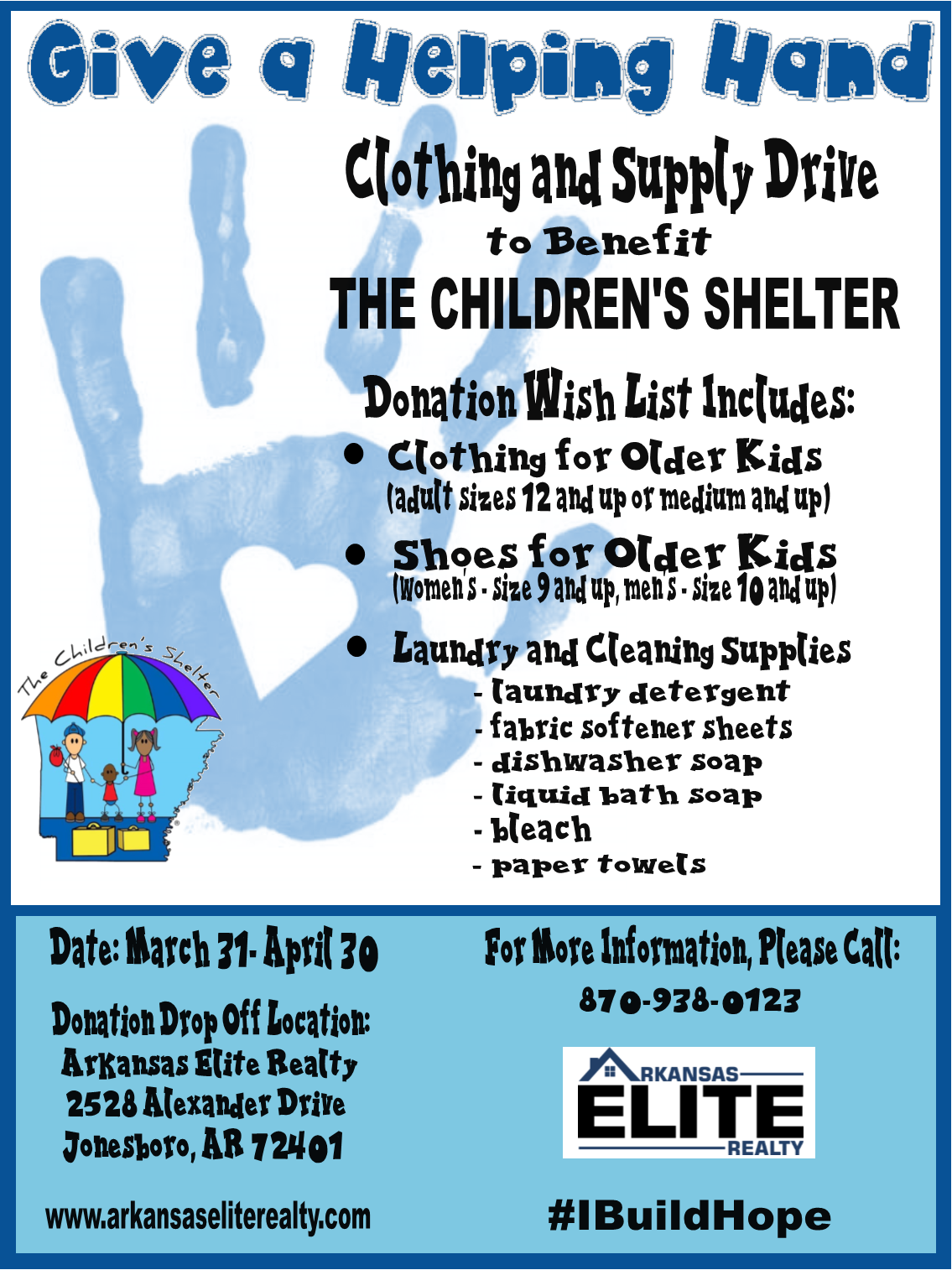 The children, who come from homes where there has been family violence, neglect, abuse, or their parents are deceased, are offered an immediate, safe, caring and stable environment until a suitable relative or foster care becomes available.
During their stay, the children are furnished with food, clothing, hygiene supplies, and medical aid. Because the Shelter's operating budget is limited, they must rely on donations from the community.
If you would like to participate in this worthy cause, simply drop off your donations anytime Monday through Friday, 8 AM to 5 PM at:
Arkansas Elite Realty
2528 Alexander Dr.
Jonesboro, AR
The clothing need not be purchased new—second-hand items are very much appreciated. (For a complete list, check out the info below).
Your generosity and kindness will truly make a difference in the lives of these children. Together we can help to:
• Lay a foundation
• Find a Home and a Family
• Build a Future